DealerRater Continues to Expand Footprint with Reviews Now Featured on Cars.com
December 2016
"DealerRater is now featuring its growing database of reviews on Cars.com, helping to arm even more consumers with the information they need to decide what to buy, where to buy and whom to buy from."
Read Article
Dealer Recognition Programs
Dealer of the Year (DOTY)
DealerRater's Dealer of the Year Award Program recognizes a select number of car dealerships throughout the United States and Canada for outstanding customer satisfaction as expressed through customers' online reviews posted on DealerRater.
Winners Announced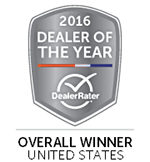 Consumer Satisfaction Awards (CSA)
Unveiled in 2015, the Consumer Satisfaction Awards represent an expansion of our annual recognition program for top car dealerships in the U.S. and Canada.
Winners Announced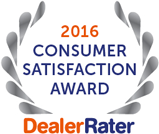 TOP CRI RANKINGS (CONSUMER RATING INDEX)
FOR AUTO MANUFACTURERS
The DealerRater® Consumer Rating Index (CRI) recognizes auto manufacturers for top-ratings in customer experience based on consumer reviews of dealerships.
October 2015 Report
March 2015 Report